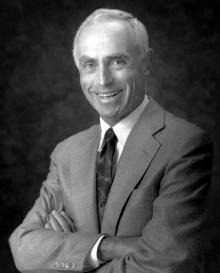 One of my all-time favorite radio hosts
passed away Monday
.
Steve Cannon, one of the most unforgettable voices in the history of Twin Cities radio and for years the highest-rated afternoon drive host in the country, died late Monday after a short, fierce battle with cancer.

Cannon died just after 10 p.m. Monday at his home near Minneapolis' Lake of the Isles, surrounded by family members. He was 81.


It was my sophomore year in college when I really became familiar with the dulcet tones of the baritone-voiced Cannon. At that point in my college career, I commuted everyday from St Paul to River Falls, WI (25 miles one way) because I couldn't find a reliable car pool that fit my schedule. I was driving a piece of junk Ford Farimont which featured an AM only radio.
WCCO radio was a big part of my life since they were the official Twins station. So on my way home from school I would switch on 830 AM (Sports station KFAN would not come around for another three years). Since Cannon's show was on from 3-6, I would invariably catch some portion of his program. However, I always enjoyed the beginning, simply because I got a kick out of that
crazy show intro
featuring the barking dogs.
I also liked Cannon's program because there were some regular segments for which I was sure to tune in. On Monday, Wednesday and Friday at 3:30 he would have on some guy from Hollywood named James St. James to talk entertainment news (i.e. what celebrities were up to, the latest movies to come out, etc.). Then at about 4:40 everyday he'd talk sports with the man he dubbed "The Oracle", Sid Hartman. And whenever Cannon had to cut to one of his many commercial breaks, he would proclaim
"I gotta go make some money!"
As a result, Cannon wrapped up his show every evening by saying
"I got the money."
Even though Cannon worked by himself in the famed "basement studio", he was never "alone". The cast of characters he created from his own mind were there everyday to give their own unique analysis on whatever Cannon was talking about. Yes, I can still hear clearly the voices of "Morgan Mundane", "Backlash LaRue" and "Ma Linger".
Cannon's
final show
with WCCO took place in October 1997. His retirement from the public eye rivals that of Johnny Carson. Once he signed off the air one last time, Cannon completely shunned the public eye. And much like Carson's retirement, the public rarely heard about Cannon again. That is, until literally the end.
-------------------------------------------