Based on little more than gut instinct and aggregate polling data, here are my predictions for Election Day 2016.
MN Senate:
The DFL currently holds a 39-28 edge in the upper chamber. I can think of a handful of DFL-held seats (particularly SD1, SD2, SD 17, SD24, SD37, SD44, SD53 and SD57) off the top of my head which have a fighting chance to flip GOP. The Republicans need a net gain of 6 seats to attain a majority, so they have a small margin for error when it comes to losing any GOP-held seats.
I believe the Republicans will close the gap on the DFL majority but will fall just short of actually overtaking the Dems. But I'm ripe for a surprise.
MN House:
The Republicans currently have a 73-61 majority. I'm afraid the GOP will suffer a net loss, but it has to be less than 6 in order to remain in charge. I believe the Republicans will hold the House, albeit barely.
MN Congressional District 1:
Incumbent Tim Walz is once again receiving a challenge from Republican Jim Hagedorn. This is pretty much a swing district in presidential election years. However, since Walz was first elected in 2006, he has never won by less than five points. One thing which placates conservative voters in this district is that Walz receives favorable marks from pro second amendment groups. However, my friend and NARN colleague Mitch Berg
has reported
that Walz has been in meetings with the Bloomberg affiliated anti-gun crowd.
Hagedorn lost this race by more than 8 points in 2014, which was a strong GOP year. Can he somehow overtake that deficit in two short years? I tend to think not, but the fact he's throwing his proverbial hat back in the ring is a step in the right direction. Walz by about 7-10.
MN Congressional District 2:
Yet another swing district which Barack Obama won in both 2008 and 2012. With longtime incumbent Republican John Kline not running this year, it is an open seat battle between DFL candidate (and former HR gal) Angie Craig against former right-wing radio host Jason Lewis.
The
Democrat Congressional Campaign Committee
targeted this district the millisecond Kline announced he was retiring. Once Lewis became the official GOP nominee, the DCCC dug up a treasure trove of bombastic comments Lewis had made during nearly three-decade long career as a radio host. Without any context or nuance, the clips were made to sound as though Lewis was pro-slavery and anti-women. Given that campaign ads are typically 30 seconds and debates between candidates aren't all that highly publicized, Lewis didn't have ample opportunity to provide context. As such, this seat will flip to the Dems with Craig winning by about 5.
MN Congressional District 3:
DFLer Terri Bonoff left her MN state senate seat in SD44 to take on incumbent Erik Paulsen in this race. The good news? Paulsen will win by double digits. Even more good news? SD44 now has a legitimate chance to flip Republican with Bonoff out of the picture.
MN Congressional District 4:
The shrill and unaccomplished Betty McCollum will (unfortunately) defeat GOP challenger Greg Ryan handily.
MN Congressional District 5:
With zero precincts reporting, incumbent Keith Ellison is the projected winner over Republican Frank Drake.
MN Congressional District 6:
GOP representative Tom Emmer easily reelected by 20-25 points.
MN Congressional District 7:
Despite representing a solidly red district, incumbent Democrat Collin Peterson will win reelection in a walk.
MN Congressional District 8:
Incumbent Rick Nolan barely defeated GOP challenger Stewart Mills in 2014 (final margin was 1.4%). With more name recognition and the fact CD8 is one district where a Donald Trump presidential candidacy is a net positive, Mills will take the sting out of the GOP losing CD2 by prevailing in this CD8 rematch!
US House:
The Republicans have the largest majority they've had since the Great Depression. The Democrats would have to flip
THIRTY
seats to take over the House. Not happenin'. While I believe the Dems will pick up some seats, no way will it approach 30.
US Senate:
The Republicans currently hold a 54-46 majority. With 24 of the 34 seats up for election in 2016 being GOP-held seats (plus being a presidential election year), it's inevitable the GOP majority will shrink if not flip to the Democrats.
Incumbent Republican Mark Kirk out of Illinois is going to lose by double digits. Despite being within the margin of error, GOP Senators Ron Johnson (Wisconsin) and Pat Toomey (Pennsylvania) will likely fall short.
That would put the GOP majority down to 51-49.
From there, you have awfully tight races in Republican held seats in Missouri, Indiana, North Carolina and New Hampshire. If the Republicans lose just two of those, the Dems have a majority. While it would absolutely make my election night if Harry Reid's Senate seat flipped to the Republicans, it appears the Latino voter turnout is reaching record numbers, which would spell doom for the GOP. As such, Republican Senate candidate Joe Heck will likely lose a close battle with Catherine Cortez Masto.
In the end, I predict the Dems will flip Illinois, Wisconsin and Pennsylvania, which will leave the GOP with a razor thin 51-49 majority in the U.S. Senate.
President of the United States:
Four weeks ago, I would have bet my house that Hillary Clinton would be elected President and that the GOP would lose the Senate. Now? Well, I still believe Hillary will emerge victorious tonight.......but I wouldn't bet my house on it.
My official electoral map: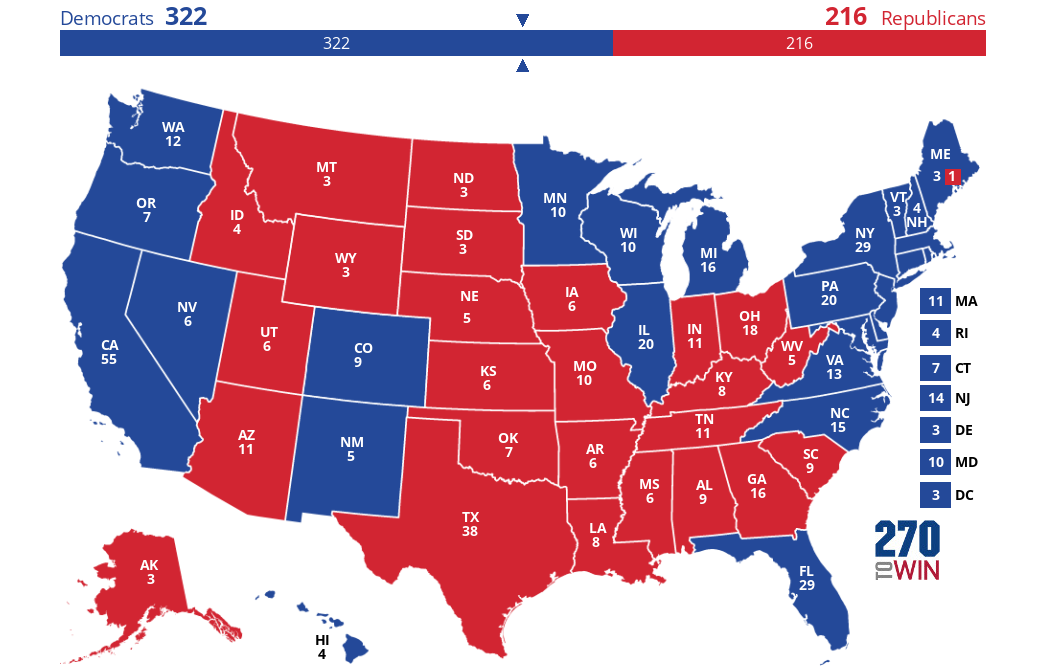 Click the map to create your own at
270toWin.com
Trump still has a fighting chance in New Hampshire, North Carolina, Florida and Nevada. If he can win those states (in addition to the ones I've predicted he'll take), the electoral vote tally would then be 270-268, Trump. So he does have a realistic path to victory, but it's awfully narrow.
As always, happy voting!
------------------------------------------